ZOEVA
Rose Golden Palette 10 x 1.5 g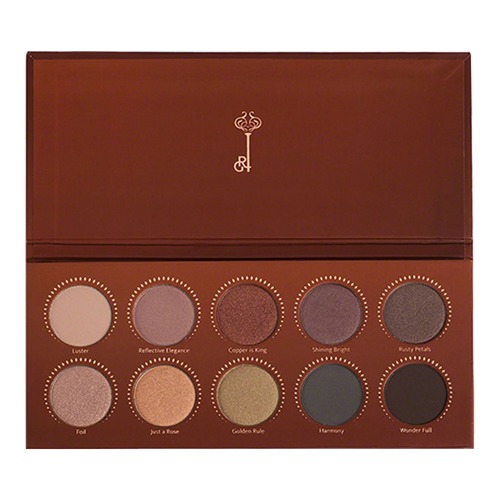 Rose Golden Palette 10 x 1.5 g
$38.00
Free Delivery above $55.00
About

Another quality product from ZOEVA. The Rose Golden Eyeshadow Palette contains 10 different shades ranging from rose gold to dark browns, and matte to shimmery finishes. It prides itself with great colour payoff and lasting coverage without the concern for creasing.

Benefits

Free from parabens, mineral oils, fragrances and phthalates

Superior pigmentation 

Easy to blend 

Formulated with vitamin E

Apply primer on your eyelids to maximise the coverage of the eyeshadow.

Use an eyeshadow brush to apply the desired shades and achieve a glamorous look.
All of our products are 100% authentic
ratings & reviews 83 reviews
Chris berkers
GORGEOUS
This is my favourite Zoeva palette - I have En Taupe and Nude Spectrum but this has such a great mix of easy to wear and blend shades while still being completely different to any other neutral palette I own. At first I was a bit dubious of the matte charcoal pan, but it works surprisingly well with the warm caramels, peach and golds. One I reach for a lot!
Jean ginny lim
Long wait but worth
Waited for a long time for this palette to be available. Am a big fan of anything rose gold related and couldn't wait to get my hands on this palette. Colours are rich and pigmented but not for everyday use as some are quite dark. But still a good and nice palette.
Nf
love it
amazing combination of colours however i find the greyish tone in the palette as the odd one out as it wouldn't really go with a rose gold look. product is so creamy with a thick consistency definitely shows up within the first stroke and also lasts a really long time. 
Nadja giles
Great for price
This palette was my first eyeshadows from Zoeva and I must say - not disappointed! The colours are so pigmented and I use the Zoeva 227V to blend them out. I only gave 4 stars because I wish the palatte had just one more matte shade to contour the corners of the eyes. That said, I've bought this for a gift since getting it for myself - its a no brainer at this price!
Michelle
Perfect palette for travelling!
Absolutely love Zoeva palettes! The texture is pigmented with minimum fallouts. This rose gold's colours are very wearable and can go from day to night. Perfect for travelling as well because the packaging is very slim and light. Want to collect all colours of Zoeva palettes! 
Yy
Zoeva
The price of this palette is very affordable given that you are given 10 different colors. The eyeshadows are easy to pick up and blend, however, I do notice that some colors do not look pigmented enough when applied on the eyelids, even with an eyeshadow primer. It would be better if there are one to two more matte colors in this palette (as there are only 3 for now).
Ida refsti
perfect rose golden palette
you have mattes and shimmers, all generally all you need for the perfect rose golden eye look. packaging is sleek and really thin, so it does not take up to much space in the makeup collection :) just a rose in its self is worth the palette
Chelsea
Pigmented af
I love this palette! It was originally for a friend but she turned out to be a snake so I kept it and I'm so glad I did! LOL fake got exposed, anyway, the pigmentation is unreal for this palette and the colours are so pretty. The shimmery copper shade is my favourite and the palette is really quite affordable compared to other brands
Sabrina
VERY PIGMENTED
I love this palette! Very easy to apply and blend. Love the variety of color in this palette. A bit shimmery but it's all good! More matte shades will make this the perfect Rose Gold palette. You can create plenty of looks!
Nani
Beautiful colors
Love love love love love this palette so much! My very first palette for beautiful and pigmented eyeshadows. My boyfriend bought this palette for me because I have a thing for rose gold's. And this is such a beautiful palette with beautiful colors. The formula is buttery and super pigmented! Definitely going to buy other palette from Zoeva as well!