Alpha-H
Liquid Gold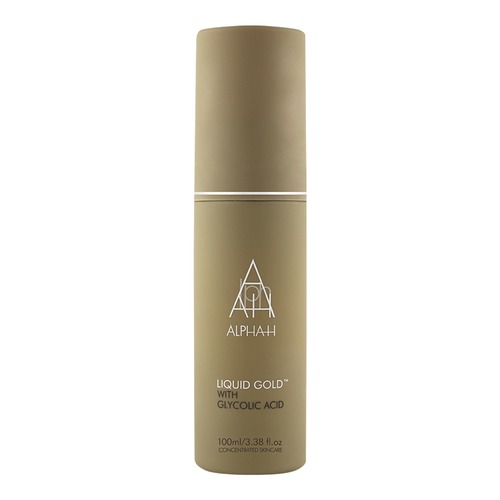 $64.00
Free Shipping
About

Alpha-H Liquid Gold is a pioneering cult-favorite skin resurfacing treatment that works overnight to stimulate healthy cells and radically improve the appearance of tired skin, sun damage, pigmentation and wrinkles. By lowering skin's pH, the anti-aging serum accelerates natural renewal and repair processes, while bolstering elastin and collagen synthesis for a firmer, fresher and more even complexion.

Benefits

Naturally derived ingredients work like an overnight facial to revitalize aging skin.

Gradually reduces fine lines, wrinkles, pigmentation, scarring and sun damage.

Suitable for all skin types.


Aqua, denatured Alcohol, Glycerin, Hydrolyzed Silk, Glycolic Acid, Potassium Hydroxide, Phenoxyethanol, Caprylyl Glycol, Glycyrrhizate Glabra Extract.

Apply to clean skin every other night (three or four nights a week).

Using a cotton pad, apply evenly to face, neck and décolleté. Avoid eyes and lips.

Leave on overnight without applying cream over top.

A slight tingling sensation is normal.

All of our products are 100% authentic
Learn more about the product
ratings & reviews 418 Reviews
Firdous jahan
love it!
This product has helped me with my breakouts surprisingly very well. Using it at night and waking up to soft smooth skin. It's the best feeling ever! Not even halfway through my 1st bottle. I got the trio pack! It's that good!
Abdul rahman nur adilah
Makes my face glow
It's a good product... it makes my face glow and fresh every morning... it's quite expensive but if you have the budget spend it on this product... i can see that the texture of my skin improving and same goes for the tiny bumps on my forehead...
Yy
Alpha H
This product does a great job in exfoliating and smoothening out my skin, i have seen lesser whitehead/ bumps on my face! There will be a tingling sensation when first applied but its nothing serious or unbearable. Will repurchase even though it is quite pricey for the quantity.
R. tram
Ms
I was very excited when ordering Alpha H Liquid Gold and couldn't wait to use it after reading all good reviews about it but it is not for me. It causes breakouts and my skin looks red in patches and feels sensitive a day after using this product. It even dries my skin out. I think it minimized pores a bit but I won't repurchase
Sarah siau
Fabulous
Facial overnight! The smoothnessn t he morninf of your face is just fascinating, futhermore. I managed to save so much on my facial products because this product represent a toner and a moisturizer
Xy
so good!!
Totally love this product!!! Was hesitant to buy due to the main ingredient in it - glycolic acid, as i have sensitive skin. however, seeing so many people rave about this product, i decided to give it a go. After using it, i can say it is totally worth the hype!! The result was almost immediate. I use it at night and my skin just look much clearer and softer the following morning!
Amy
Worth the price
Works as advertised. My skin looks smoother, pores smaller, my complexion brighter. I have these dry skin around my nose area and with just swipe of this lotion the night before, I woke up with a clear & beautiful skin in the morning. One bottle will last a long time since you only need to use it once a day every other night. It's a worthy investment.
Rae k
Caroline Hirons' favourite
If you read Caroline Hirons, you'll know that this is highly raved and works for many women. I actually preferred the Pixi Toner to this, as I felt like that is less harsh for daily usage. That said, this would be good as a weekly exfoliation tool. I like that it doesn't contain microbeads, which makes it less harsh on the skin.
Samrin akhtar
Reduce scarring and slight pigmentation!
This product has helped with my scarring and hyper pigmentation problems. People who are curious and wants to give it a shot, you should first start with a small bottle! Works well alone or you can add a moisturizer for people with dry skin!
Jhelyn santos
True to its claims
Omg. I saw michelle dy raving about this so i bought it right away. I needed help on my aging skin and this is a wonder product overnight! Ive been using this for about a month now,three times a week. My skin is now baby smooth, super glowy every morning. I wanted to try all the alpha h line because of this. :)